.
Enhanced Dimensions is offering a free anaglyph 3D VJ clip from our RockCandy 3D Collection this week in conjunction with VJLoops.com
VJLoops is a specialist royalty free stock footage & media site focussing on the global VJ community. They sell a wide variety of videos, animations and never before seen visuals for a wide range of creative use. VJLoops aims to be the one stop shop to get the visual tools needed to get the job done. They have a massive catalog with collections from over 260 artists from around the world.
RockCandy 3D is Enhanced Dimensions stereoscopic 3D rock music themed stock media selection which for a limited period is on offer as a complete boxed set collection of over 40 3D animations for use in your own creative projects.
So make sure you head on over to VJLoops.com and grab your free 3d download today.
As part of our promotion for Crime Squad we've got what we believe is an amazing new offer for anyone who creates stereo 3D using After Effects. There's no horses heads involved but it's still surely an offer you can't refuse?
So what am I talking about? Okay here's what you get:
Full digital downloads of the series in 2D or 3D – VALUE: £10
Screen Candy 3D – VALUE: £13.50
RockCandy 3D Singlez 01 – Rock Crest 01 Pro VALUE: £10
RockCandy 3D Singlez 02 – Pink Strip Show Pro VALUE: £10
And don't forget as part of Screen Candy you get our Ed-3D Virtual Stereo Rig and our ED-3D Stereo Repair Kit
TOTAL VALUE £43.50 (Roughly $65)
COST TO YOU WITH THIS OFFER £15 (Roughly $22)
All this for a meagre £15 donation to Crime Squad 3D. So not only do you help get the series made but you walk off with a whole heap of extra goodies.
Let's get on with the show! Visit Crime Squad on Indiegogo now!
As part of our promotional campaign for Crime Squad, Zombie Popcorn has offered me the opportunity to do a guest blog feature, and of course I lept at the chance.
For some time I've been thinking about how digital technology has democratised the creation of media – whether it's using Photoshop to create and manipulate images to an amazing extent, Pro Tools to create musical masterpieces or Premiere and a DSLR to create films that offer Hollywood level production values. It's the widespread adoption of this technology that has enabled a whole generation of savvy creatives to break boundaries of what was achievable.
This democratisation reminded me of the early DIY ethics of the 1970's Punk Rock movement – allowing anyone with the energy and interest to just get out and express themselves. Some were brilliant, others less so but it was everyone's freedom to self expression that was most important. In my own case the freedom to express myself was paramount – living in 1970's Apartheid era Johannesburg under a state run media regime, the venues we partied in or played at  were viewed with suspicion by the state, places where black and white kids would mix, drink and dance together – all frowned upon and most probably against the laws of the time.
Of course I see the irony in now expressing myself by making a 1970's style, 3D cop comedy without a hint of the anger that I may have had way back then – but I'm that bit older and happy to express myself in the way that spreads laughter as pure entertainment, as opposed to expressing my political views or darkest desires of my youth with more radical intent!
Read Filmmaking: The New Punk Rock over on zombiepopcorn.
And then give us some cash for Crime Squad.
Wow we've just gone over 250 downloads for our eD-3D Stereoscopic Repair Kit for After Effects!
The eD-3D Stereo Repair Kit for Adobe After Effects  CS4 & CS5 is based on the AE 3D technology we've used on our Enhanced Dimensions live action based stereoscopic projects – this is the 3D tool we've used to fix the majority of 3D based problems we've encountered when shooting stereoscopic footage. And what's even better than that is it's you for absolutely free!
Features in eD-3D Stereo Repair Kit
•    Flexible 3D Repair Controls: Easily corrects errors in rotation, zoom and vertical misalignement.
•    Anaglyph Preview: Real time manipulation & previewing of the repairs in anaglyph stereo 3d
•    Full HD 3D Left & Right Views – System is based on a full 1080p left & right views in 25fps or 30fps
•    YouTube 3D Support: Render Comps provided for popular formats:
YouTube (Side-by-Side)
TriDef(Above Below)
Red Cyan Anaglyph
Free Stereoscopic 3D Training for eD-3D Stereo Repair Kit
And don't forget we've also got exclusive free tutorials for the eD-3D Stereo Repair Kit explaining many of the features and controls can be seen on our 3D Training section of Enhanced-Dimensions.com
We've had a Pinterest account for a wee while now but just never got round to doing anything interesting with it – well that's all about to change!
We've uploaded a whole heap of stereo 3d related stuff, including behind the scenes shots, stills from our films plus we've created a board of 3D related books.
So if you've got a little time to spare and want to see some cool Enhanced Dimensions pictures and stuff please head on over and visit our Pinteresting pages!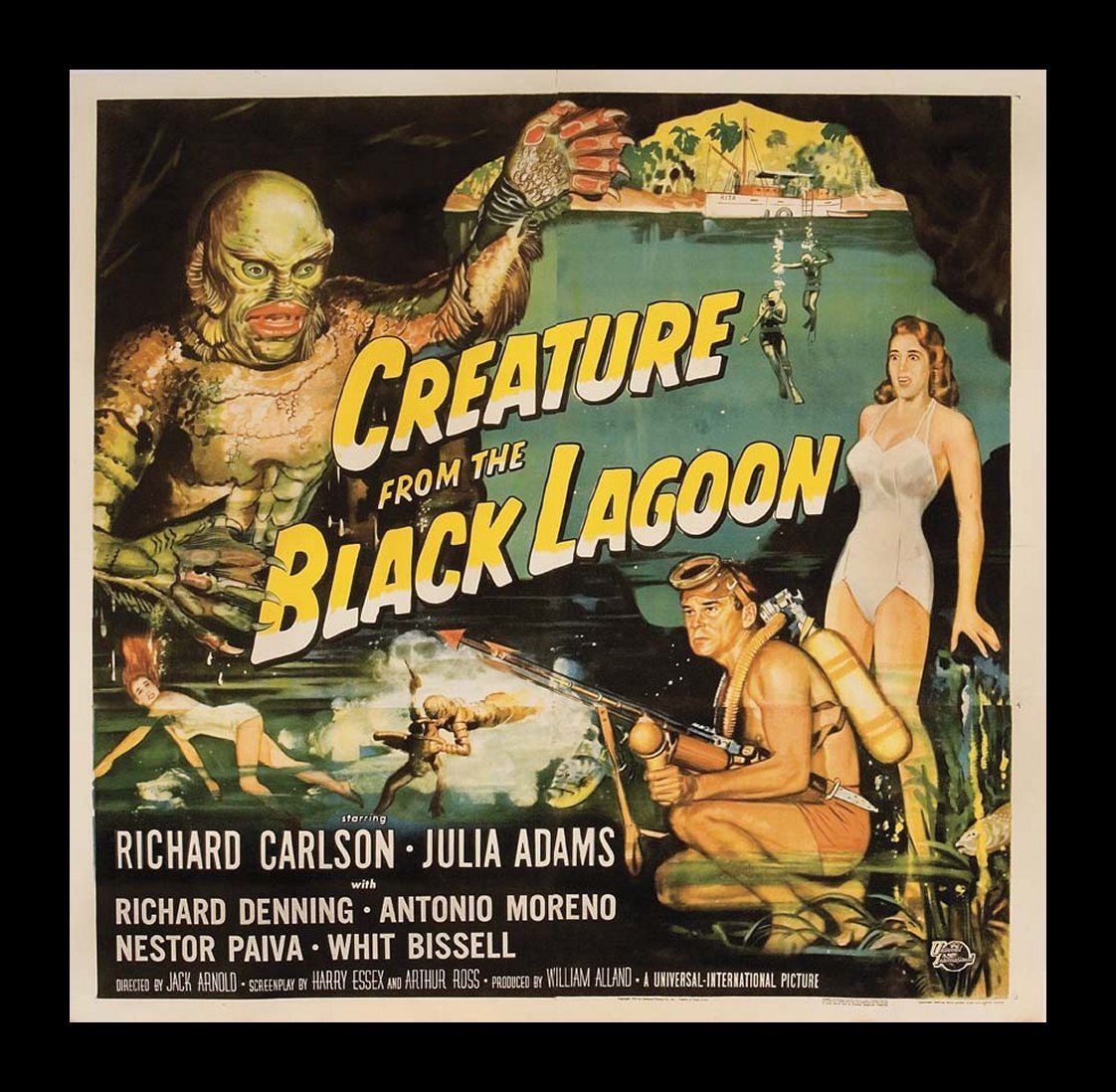 The Creature from the Black Lagoon, Kiss Me Kate, House Of Wax & of course Dial M for Murder are all rightly regarded as 3D classic from Hollywood's golden age of 3D. But was the 1950's really the golden age for 3D film? Considering the rudimentary technology for both capture and display; the relatively small number of films produced, and the lack of big name directors involved wasn't the 1950's an early experiment, an exciting one, but simply the precursor to where we are now: The Real Golden Age of 3D.
Creating 3D content in the 1950's was an expensive and often experimental undertaking, so the output was in general limited to studio level features and shorts with budgets sufficient to cover the stereoscopic production overheads. In reality the number of 3D features released in the 1950's "golden age" was only around 50 odd films

, with quite a number  of them on the lower end of the budget scale. Not to suggest there weren't some great and visually stunning pieces of cinema, however the over reliance on 3D as a gimmick to throw objects at a (un)suspecting audience quickly wore thin and only a small number of serious directors got involved in 3D projects.
State of the art capture and display technology has also attracted a considerable number of high profile film Director's. Led by James Cameron's driving energy, stereoscopic skills and his teams technological developments on Ghosts of the Abyss
and
Avatar
, Hollywood has been dragged kicking and screaming into the new age of 3D. And naturally many Directors when given the opportunity to create stunning new visions, with a whole new range of options and tools, are enthused and thrilled to jump in and get creative. Of course there are plenty who prefer the status quo, and that is their obviously choice to do so.
Advances in technology and increased computer processing power has been another key driver in the resurgence of stereoscopic 3D. Consumer level computers now have sufficient processing power to easily cope with the typical requirements of dual stream stereo video, or to easily render a secondary view from even rudimentary, even free, software.
Capturing or creating the stereoscopic film is of course only one half of the requirement… where can you view these masterpieces? Alongside the tech developments for generating the content the display opportunities have proliferated.
The biggest hurdle is often cited as the "fact" that consumers don't actually want 3D. Figures from cinema receipts dispute this with half the top ten grossing films in 2011
&
2012
being made in 3D. From personal experience, on my
YouTube Channel
, on occasions where I offer both a
3D
and
2D
version of a film the 3D version typically gets between 5 times and 45 times more views; the audience is actively selecting to watch my films as intended, in 3D.
So what is the state of the 3D nation?
The desperate attempt of the film studios to reap more cash from their product, whilst attempting to combat piracy has no doubt helped initiate the latest wave of stereo 3D, however the fact that 3D is not maintaining the momentum to deliver to the overambitious early indicators, not dissimilar to the naive dot com boom and bust philosophy, simply proves the initial beliefs were wrong, not that 3D is dead in the water.
Far from it.  With the improvements in technology for both creation and display of stereoscopic content, along with bigger budgets, high profile film makers, wider exhibition & distribution platforms we are in the biggest 3D wave yet – whether it maintains the same initial momentum is neither here not there, with the scale of this latest wave it seems highly unlikely this will simply end as previous attempts at bringing 3D to the mainstream have. This time it's for real; The Golden Age of 3D is with us.
Andrew Murchie is a Director at
Multiply
, a stereoscopic filmmaker and 3D enthusiast based in Edinburgh, UK. He blogs on Stereo 3D related topics on Enhanced-Dimensions.com and runs
The Stereoscopic 3D Channel on YouTube
.