Posts Tagged 'after effects 3d'
We've been doing some tidying up of the blog and have introduced a funky new Stereoscopic 3D Resources Section where you'll find a range of (hopefully) helpful links to 3D related items and information.
Currently we've included 3D Books, 3D Websites, 3D Software, 3D Film Festivals and our own Enhanced Dimensions 3D Tutorials. Also included is our small selection of reviews of 3D Blu rays.
We've also moved our Free 3D Downloads into the resources sections to keep it all neat and tidy!
Our resources section is far from comprehensive currently, so if you know of anything that we've missed please do let us know.
I'd like to say a big thanks to all our subscribers over on YouTube who've taken us up to a MASSIVE 10.0001 subscribers today!
Our channel on YouTube is the hub for our video output, from our stereo 3d tutorials through to our award winning short films if you want to see us in action The Stereoscopic 3D Channel on YouTube is the place to visit.
We'll have plenty more coming as our development of Crime Squad gets underway; we'll be sharing behind the scenes videos, outtakes, bloopers plus every one of the episodes of the first series all in digital stereoscopic 3D… or as Crime Squad would put it Super Stereo Vision!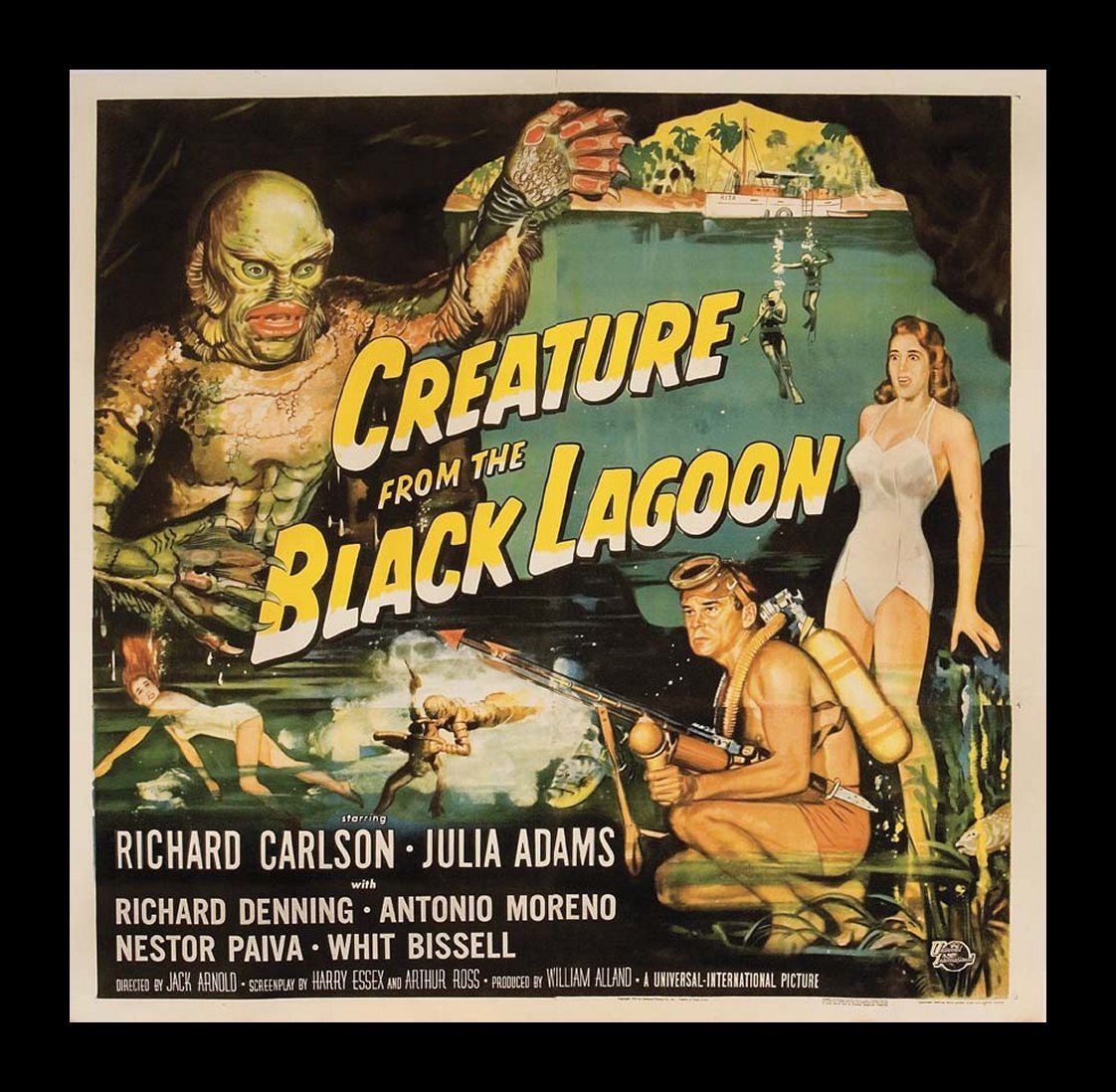 The Creature from the Black Lagoon, Kiss Me Kate, House Of Wax & of course Dial M for Murder are all rightly regarded as 3D classic from Hollywood's golden age of 3D. But was the 1950's really the golden age for 3D film? Considering the rudimentary technology for both capture and display; the relatively small number of films produced, and the lack of big name directors involved wasn't the 1950's an early experiment, an exciting one, but simply the precursor to where we are now: The Real Golden Age of 3D.
Creating 3D content in the 1950's was an expensive and often experimental undertaking, so the output was in general limited to studio level features and shorts with budgets sufficient to cover the stereoscopic production overheads. In reality the number of 3D features released in the 1950's "golden age" was only around 50 odd films

, with quite a number  of them on the lower end of the budget scale. Not to suggest there weren't some great and visually stunning pieces of cinema, however the over reliance on 3D as a gimmick to throw objects at a (un)suspecting audience quickly wore thin and only a small number of serious directors got involved in 3D projects.
State of the art capture and display technology has also attracted a considerable number of high profile film Director's. Led by James Cameron's driving energy, stereoscopic skills and his teams technological developments on Ghosts of the Abyss
and
Avatar
, Hollywood has been dragged kicking and screaming into the new age of 3D. And naturally many Directors when given the opportunity to create stunning new visions, with a whole new range of options and tools, are enthused and thrilled to jump in and get creative. Of course there are plenty who prefer the status quo, and that is their obviously choice to do so.
Advances in technology and increased computer processing power has been another key driver in the resurgence of stereoscopic 3D. Consumer level computers now have sufficient processing power to easily cope with the typical requirements of dual stream stereo video, or to easily render a secondary view from even rudimentary, even free, software.
Capturing or creating the stereoscopic film is of course only one half of the requirement… where can you view these masterpieces? Alongside the tech developments for generating the content the display opportunities have proliferated.
The biggest hurdle is often cited as the "fact" that consumers don't actually want 3D. Figures from cinema receipts dispute this with half the top ten grossing films in 2011
&
2012
being made in 3D. From personal experience, on my
YouTube Channel
, on occasions where I offer both a
3D
and
2D
version of a film the 3D version typically gets between 5 times and 45 times more views; the audience is actively selecting to watch my films as intended, in 3D.
So what is the state of the 3D nation?
The desperate attempt of the film studios to reap more cash from their product, whilst attempting to combat piracy has no doubt helped initiate the latest wave of stereo 3D, however the fact that 3D is not maintaining the momentum to deliver to the overambitious early indicators, not dissimilar to the naive dot com boom and bust philosophy, simply proves the initial beliefs were wrong, not that 3D is dead in the water.
Far from it.  With the improvements in technology for both creation and display of stereoscopic content, along with bigger budgets, high profile film makers, wider exhibition & distribution platforms we are in the biggest 3D wave yet – whether it maintains the same initial momentum is neither here not there, with the scale of this latest wave it seems highly unlikely this will simply end as previous attempts at bringing 3D to the mainstream have. This time it's for real; The Golden Age of 3D is with us.
Andrew Murchie is a Director at
Multiply
, a stereoscopic filmmaker and 3D enthusiast based in Edinburgh, UK. He blogs on Stereo 3D related topics on Enhanced-Dimensions.com and runs
The Stereoscopic 3D Channel on YouTube
.
Enhanced Dimensions is proud to announce that our music themed stereoscopic 3D stock animation collection, RockCandy 3D, is now available as individual videos from shutterstock.com
Previously only available in a box set the 40+ music themed stereoscopic 3D animations have proven to be a big hit with VJ's and for use in nightclubs, so hopefully with them now available for instant download at a very competitive price point they'll be even more widely available.
A small selection is currently available but the full RockCandy 3D collection will be made available in 3D anaglyph, 3D side by side and 2D formats in the next few weeks.
Along with this release there's also a range of new animations that are exclusively available via Shutterstock. These include a range of 3D glasses animations along with stereoscopic countdown film leaders. And that's not all folks… more exlusive 3D animations are underway and will be available for inclusion in your 3D projects via shutterstock.com
With the current growth of 3d technology, learning how to film in 3D and how to then edit and output in a suitable format can be quite a steep learning curve. With plenty additional jargon to get used to (parallax, convergence, anaglyph, circular polarisation, etc) it's certainly a daunting task for anyone used to filming in 2D.
Well never fear, Enhanced Dimensions' Stereoscopic 3D Training & Resources section aims to make the process as easy as possible and current has around 30 videos to help you to film 3d movies for fun and profit! Alongside this we offer some specialist 3d tools for Adobe After Effects users that aim to simplify the process of creating 3D motion graphics and repairing 3d problems in footage.
That's not all! Over the next few months we hope to get the chance to develop a specific series to cover the absolute basics of how to film in 3d, how to edit in 3d and how to post your new 3d videos to the likes of YouTube employing their great embedded 3d player technology.
Finally, and offering you an unbelievable deal, all the training is free – that's right learn how to film 3d movies like a pro with Andrew Murchie & Enhanced Dimensions!
Our two available RockCandy Singlez are now available at a knock down price of just $11.95 each.
Built using our eD-3D Virtual Stereoscopic Rig technology our two RockCandy Singlez templates offer you a simple way to create some fantastic stereo 3d animations. Completely editable with all the associated graphics or footage supplied these make a great starting point for any music related project. Plus you have a fully customisable virtual stereoscopic rig based on the same award winning technology as used to create all of Enhanced Dimensions animations.
Visit the RockCandy Singlez 3D online store pages now for more info now.