2013 has actually been an amazing year for 3D in film. Not only have 8 of the top ten grossing films of the year been 3D productions, but arguably the best 3D film of all time was released this year. With that in mind here's my countdown of the top 5 3D films you should have experienced this year.
5. Jurassic Park 3D/Wizard of Oz 3D
Okay I've cheated here and squeezed two into this fifth slot, but such was the quality of the conversion and amazing results from these films they are both well worth seeing again for the added experience that dimensionalisation brings to them.
To see Dorothy exploring the technicolour land of Oz in three dimensions was truly astounding while experiencing the T-Rex chase and velociraptors on the rampage in IMAX 3D glory was awe inspiring.
If you didn't see this pair of conversions in the cinema do yourself a favour and grab them on 3D bluray while you can!
4. The Great Gatsby
I have mixed feelings for The Great Gatsby; the 3D was beautiful and some of the performances were excellent, however Baz Luhrmann's overly slick, hyper-polished, Jay-Z  soundtrack driven, music video styling was a bit over rich for me.
Leonardo Di Caprio is as charismatic as ever and certainly the drink fueled scene in steamy New York city where Tom Buchanan (Joel Edgerton) confronts Gatsby (Di Caprio) was explosive, but this was one of possibly only two or three scenes that delivered any impact. Considering it's classic source material I felt it lacked an emotional heart and ended up being a slightly vacuous, albeit stunningly visual, experience.
That didn't stop me watching it twice for the sheer joy of the 3D, so in balance it's one for your collection.
3. Despicable Me 2
How could anyone not love another visit to the world of Gru, Margo, Edith, and Agnes plus of course a cast of minions?
Despicable Me 2 features loveable characters and an entertaining plotline but it is definitely the minions who steal this show. The lightweight plot revolves around Gru's recruitment by the Anti-Villain League to help hunt down super villain El Macho. It's a kids film so not challenging but has a good heart and loads of great gags, well worth your entry fee!
If you haven't seen this and get a chance remember to wait until the end as there's some fantastic over the top 3D silliness during the credits as the minions attempt to outdo each other in the 3D stakes.
2. Oz The Geat and Powerful
Sam Raimi delivered a stunning film for Disney with this beautiful prequel to the 1939 classic Wizard of Oz.
From the very opening which plays out in 4×3 black and white, this film oozes quality. Raimi who has always been a master of originality understand perfectly the range of options he has when adding 3D into the mix and uses subtle 3D during this intro sequence and expands it gloriously as the film enter Oz in it's panoramic rainbow burst of colour. Again mimicking the 1939 original he uses a bold and exaggerated technicolour palette with 3D being used in and out of the screen to great effect.
Needless to say as a fan of the original I loved every moment of this film, even though my interest in children's films is minimal this genuinely felt like a film for all the family.
1. Gravity
The best 3D film ever made. Need I say more?
Alfonso Cuarón has, in my opinion, created a 3D film like no other, in fact he has created THE 3D film. Watching Gravity was like being in space for 90 minutes; I felt myself shifting in my seat trying to help Sandra Bullock manoeuvre through zero gravity as she bumps and is thrown about in the vast and completely uncontrollable environment. A tiny human ragdoll lost in the vastness of space. The fact that after the first few minutes I was completely unaware of the film being in 3D was testament to the fact that it was used so perfectly – I was in space, I was floating alongside Sandra and George totally oblivious of this being an illusion and totally engaged. Its was as perfect as a great edit, a great soundtrack great grading – it added to the film but was invisible at the same time.
This isn't to say the plot or film is perfect as a story, at times as a writer you can feel the process and see the next problem being manufactured as the tension is ramped up to drive our heroine to the edge of her ability, and beyond. However at just around 90 minutes you are blasted through it so fast you come out the other end exhausted, exhilarated and bizarrely appreciative of walking out of the cinema in one piece, on your home planet, on the ground, safe.
You must see this film, and must see it in 3D.
Cash vs Opinion
That's my thoughts on the best of this years 3D output, for those of you interested more in the financials and in 3D box office figures Box Office Mojo has got a 3D specific chart on the top grossing 3D films from 1980 onwards.
Fantastic news for our latest short film is that we picked up the Best Direction Award from the 48 Hour Film Project in Edinburgh.
The short's premiere public screening was at the Cameo Picturehouse Cinema in Edinburgh on 27th August in 2D. The judging panel consisted of George Barr – Head of Greenroom Films, Ian Hoey – Film Critic, Iain Gardner – Short Film Programmer at the Edinburgh International Film Festival.
The 3D version is currently in post production and we hope to have this completed soon. Since our first short live action 3D film in 2011 the team's output has improved over each project and Situation Vacant is most definitely our best short film to date. It has great pace and energy and works well to deliver a dynamic plot driven story in a very short timeframe.
The film will be available to view in 3D on our YouTube channel shortly, however in the meantime do feel free to visit our Situation Vacant (3D) Page here on the blog and on Facebook.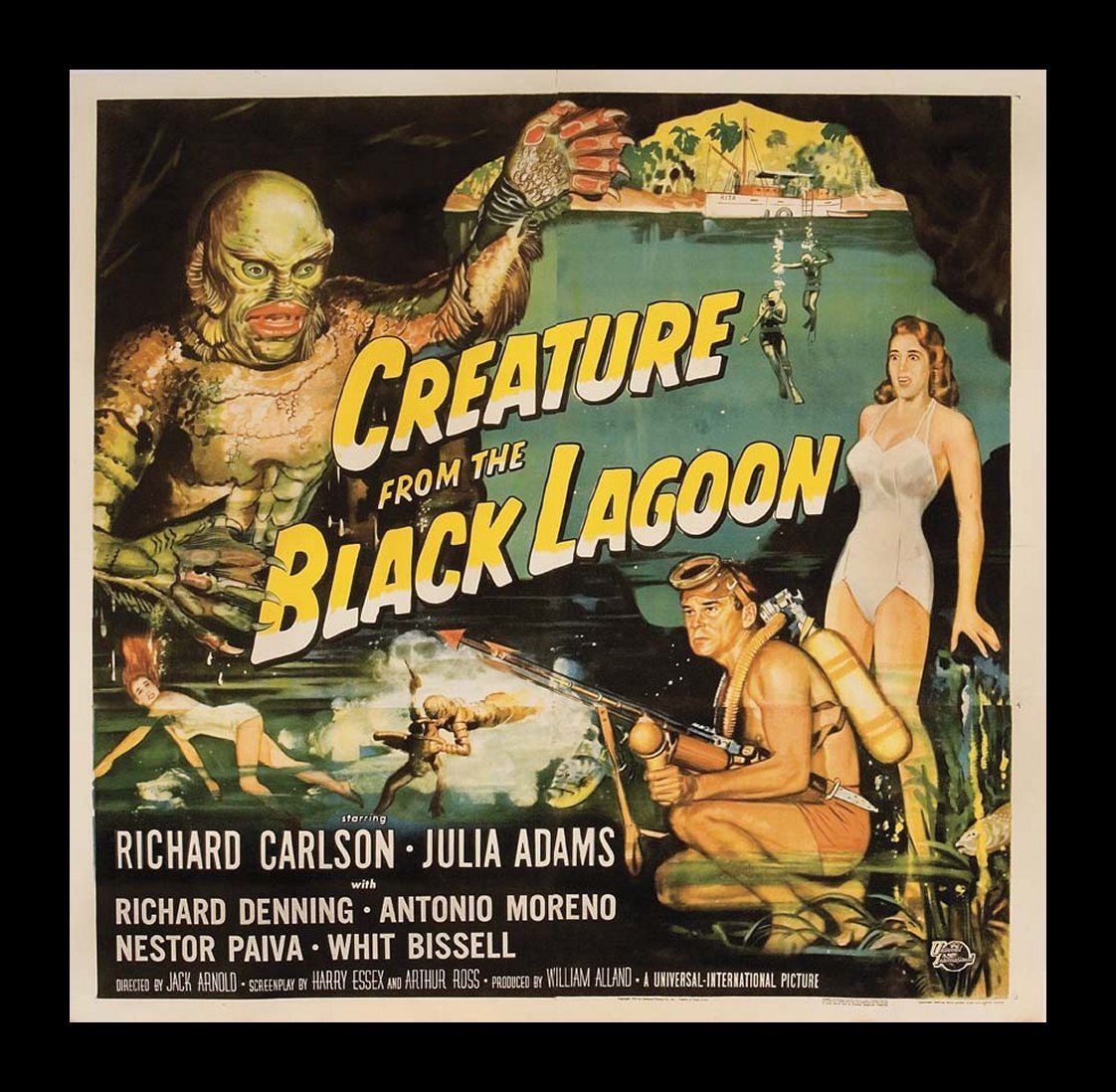 The Creature from the Black Lagoon, Kiss Me Kate, House Of Wax & of course Dial M for Murder are all rightly regarded as 3D classic from Hollywood's golden age of 3D. But was the 1950's really the golden age for 3D film? Considering the rudimentary technology for both capture and display; the relatively small number of films produced, and the lack of big name directors involved wasn't the 1950's an early experiment, an exciting one, but simply the precursor to where we are now: The Real Golden Age of 3D.
Creating 3D content in the 1950's was an expensive and often experimental undertaking, so the output was in general limited to studio level features and shorts with budgets sufficient to cover the stereoscopic production overheads. In reality the number of 3D features released in the 1950's "golden age" was only around 50 odd films

, with quite a number  of them on the lower end of the budget scale. Not to suggest there weren't some great and visually stunning pieces of cinema, however the over reliance on 3D as a gimmick to throw objects at a (un)suspecting audience quickly wore thin and only a small number of serious directors got involved in 3D projects.
State of the art capture and display technology has also attracted a considerable number of high profile film Director's. Led by James Cameron's driving energy, stereoscopic skills and his teams technological developments on Ghosts of the Abyss
and
Avatar
, Hollywood has been dragged kicking and screaming into the new age of 3D. And naturally many Directors when given the opportunity to create stunning new visions, with a whole new range of options and tools, are enthused and thrilled to jump in and get creative. Of course there are plenty who prefer the status quo, and that is their obviously choice to do so.
Advances in technology and increased computer processing power has been another key driver in the resurgence of stereoscopic 3D. Consumer level computers now have sufficient processing power to easily cope with the typical requirements of dual stream stereo video, or to easily render a secondary view from even rudimentary, even free, software.
Capturing or creating the stereoscopic film is of course only one half of the requirement… where can you view these masterpieces? Alongside the tech developments for generating the content the display opportunities have proliferated.
The biggest hurdle is often cited as the "fact" that consumers don't actually want 3D. Figures from cinema receipts dispute this with half the top ten grossing films in 2011
&
2012
being made in 3D. From personal experience, on my
YouTube Channel
, on occasions where I offer both a
3D
and
2D
version of a film the 3D version typically gets between 5 times and 45 times more views; the audience is actively selecting to watch my films as intended, in 3D.
So what is the state of the 3D nation?
The desperate attempt of the film studios to reap more cash from their product, whilst attempting to combat piracy has no doubt helped initiate the latest wave of stereo 3D, however the fact that 3D is not maintaining the momentum to deliver to the overambitious early indicators, not dissimilar to the naive dot com boom and bust philosophy, simply proves the initial beliefs were wrong, not that 3D is dead in the water.
Far from it.  With the improvements in technology for both creation and display of stereoscopic content, along with bigger budgets, high profile film makers, wider exhibition & distribution platforms we are in the biggest 3D wave yet – whether it maintains the same initial momentum is neither here not there, with the scale of this latest wave it seems highly unlikely this will simply end as previous attempts at bringing 3D to the mainstream have. This time it's for real; The Golden Age of 3D is with us.
Andrew Murchie is a Director at
Multiply
, a stereoscopic filmmaker and 3D enthusiast based in Edinburgh, UK. He blogs on Stereo 3D related topics on Enhanced-Dimensions.com and runs
The Stereoscopic 3D Channel on YouTube
.
I just had to share the poster we've just completed for the cover of our DVD for The Collection (3D).
Based on an illustration by Thomas Selway, our editor on the shoot, the poster emulates a grungy retro exploitation style. The poster has that classic B-movie feel that really suits the project.
If you've not seen the film yet please do head over to our YouTube Channel and check out The Collection (3D).
Lots of work on here at Enhanced Dimensions HQ! On top of making "The Collection (3D)" I've been finishing off another 3D short (more on that later) and getting involved in a 2D initiative with www.wearenorthernlights.com in Scotland -plus taking a week of to laze in the sun in Malta!
Well the exciting news though is that our short horror film "The Collection (3D)" that we made for the Edinburgh leg of The 48 Hour Film Project was awarded an "Honourable Mention for Production Values" in the award ceremony at Electric Circus on Monday 28th May 2012. Considering this is only our second live action short and that it's the first 3D short entered into the project outside of the US we were mighty pleased to be recognised. The award recognised the quality of acting, writing, direction & cinematography across the whole piece, and although we'd have preferred the much coveted award for "Best Film" (well who wouldn't have?) it's a great award… for the time being.
The Collection (3D) was also chosen as one of a handful of film to represent the 48 hour film project in a "Best of the last 5 years" show at The Cameo in Edinburgh and is also available on the 5th Year Anniversary DVD too! For those of you interested in getting a copy, along with a free pair of  anaglyph 3D glasses, just email Sam Goldblatt @ edinburgh@48hourfilm.com and he'll fill you in on the details.
We had a great time entering the 48 hour film project and got great support from the organisers Sam & Louise, and we met some really exceptional film makers whom I hope we will see go on to become major producers, directors, writers, etc. Finally thanks to all friends, family and colleagues who gave such a level of support and helped us to deliver a cool little 3D short in one crazy weekend!
I've recently been trying out two of the adaptors available for the stereo 3D Camcorders the Sony NX3D1 & Sony HDR TD10
that may be of interest to 3D filmmakers using these cameras. One of the prime issues with any of these fixed interaxial 3D camcorders in 3D filmmaking is the limitations in terms of long shots and close ups both of which are tackled by different adaptors in the Cyclopital 3D range.
In this video, I first take a look at the filter/close up adaptor itself on the Sony HDR-NX3D1 and how to use it with the camcorder, thenI demonstrate the kind of close up shots that this adaptor extends the camcorders range.
Although different and untested Cyclopital 3D also offers adaptors for the Fuji W3 & W1 3D stills cameras as well as the JVC Stereoscopic 3D Camcorders the GS-TD1 and the GY-HMZ1U ProHD.
Check out the video on The Stereoscopic 3D Channel on YouTube and see the effect the adaptor has to expanding the usability of the camcorders.
Further details on the adaptors  are available from the Cyclopital 3D Website or if you're based in the UK and or Europe the local distributor is www.3dglassesshop.com