Posts Tagged '3D Camcorder'
In a galaxy far far away… well actually just along the road a couple of years back… we shot a two minute silent short film just for fun inspired by a "Two Minute Silence" competition that Neil Rolland had set-up as part of his Write, Shoot, Cut platform in mid 2013. We had a laugh making it and really enjoyed working with Amanda Marment and Tamas Fazakas to get it done. Our aim was to create a 70's looking cop show parody and overall the outcome was pretty good.
What interested me most though was the characters that Amanda and Tamas play – Dick Rize and Dawn Shine as they eventually became known: how did they get where they were, why would they want to be cops and what was their wider world like? From that inspiration Rhiannon and I decided to give it a go drafting several episodes that we could possibly produce as a 3D web series. At the same time as undertaking the writing challenge I was keen to move on from shooting with unibody 3d camcorders to shooting with a more advanced stereoscopic rig, which in itself would come to present quite a number of challenges and rather obviously slow us down from our usual run and gun style of shooting. That in itself is a whole other post!
The good news is the series has now (finally) completed post production and we had our cast and crew screening last week where we were finally able to share the fruits of nearly two years of effort – plus we could have a few beers and catch-up with everyone involved who've all become close friends. As writer/producer/director it's difficult for me to be objective so I'm not going to tell you how great the series is – we'll be sharing this online via The Stereoscopic 3D Channel from July 2015.
Big thanks is also owed to our sponsors NEO3DO and to everyone who supported us via Indigogo (complete list on our CS3D page here).
If you'd like to keep up to date do head over to our Facebook page for Crime Squad 3D and if you're really keen you could like us at Enhanced Dimensions FB too for news and updates on our wider range of activities.
Crime Squad 3D: It's gonna be great!
Great news on our submissions to LA 3D Film Festival held by our friends over at the LA 3-D Club is that we've got three films screening at the event!
Our three latest stereo 3D pieces have been selected for screening  at the Downtown Independent Theater in Los Angeles Dec. 13-15th, 2013. Festival passes are now on sale online for $40, with individual day tickets available from December 1st.
Enhanced Dimensions films included in the program are:
Most exciting is that there are a couple of 3D premiers in the group. Our 2013 48 Hour Film Project film "Situation Vacant 3D" receives it's 3D global premiere having only previously been screened in 2D, on both occasions winning awards (Best Direction & 3rd Place Palme Dewar), fingers crossed it goes down as well with the appreciative 3D audience! "Crime Squad:UNDERCOVER3D"  is also receiving it's 3D global premier, this is the the teaser piece for our forthcoming cop comedy web series.
One of my biggest disappointments of the Vision III QuickS3D Plug-in that came out to handle stereo 3D "quickly" and "natively" in Adobe Premiere Pro was the fact that it didn't work natively with the stereoscopic MTS files that came off my Sony NX3D1. I did have some hope when I got my hands on some footage from the Panasonic  Z10000 that there might be a simpler workflow than my current splitting prior to editing. Well unfortunately not.
In fact this appears to be even more problematic. It doesn't have the simple splitting utility that Sony supplied (even though that is still a hassle) and looking around for tutorials I found an Adobe tutorial that suggested I look out for Pixela Corporation's 3D to LR Converter – excellent I thought perhaps I've found a splitter that works better than the Sony one… well it may do but I'm not spending $795.95 US to find out!
I can't say how disappointed I've been with the Vision III plug-in – all I want from Adobe is a simple way to import my file straight off the camera into Premiere Pro without having to reprocess to split the files in order to work with my 3D footage. Instead between the manufacturers and the software developers we're left with an almighty mess! As it is I could pretty much achieve the same as the plug in using Enhanced Dimensions free Stereo 3D Repair kit – although admittedly that's in Adobe After Effects following the edit and possibly a bit more challenging if you are not used to After Effects.
I've spent some time today looking into Cineform, however it doesn't look like it will help – unless I'm misunderstanding the process it still requires me to split the files prior to converting to it's own intermediate format!
The only hero in all this are the guys over at 3dtv.at as they offer a splitter for 29 EURO that actually works well although it does generate files considerably larger than the original camera files and is a little slow. However they are definitely my hero's for today as I'm ripping through the Panasonic z10K files and will start working from the demuxed files as soon as the process is done. Glad it's not a 48 hour film project shoot!
Fantastic news for our latest short film is that we picked up the Best Direction Award from the 48 Hour Film Project in Edinburgh.
The short's premiere public screening was at the Cameo Picturehouse Cinema in Edinburgh on 27th August in 2D. The judging panel consisted of George Barr – Head of Greenroom Films, Ian Hoey – Film Critic, Iain Gardner – Short Film Programmer at the Edinburgh International Film Festival.
The 3D version is currently in post production and we hope to have this completed soon. Since our first short live action 3D film in 2011 the team's output has improved over each project and Situation Vacant is most definitely our best short film to date. It has great pace and energy and works well to deliver a dynamic plot driven story in a very short timeframe.
The film will be available to view in 3D on our YouTube channel shortly, however in the meantime do feel free to visit our Situation Vacant (3D) Page here on the blog and on Facebook.
I recently attended the 3D Creative Summit in London at the BFI Southbank where I had the great pleasure to meet up with some members of the 3D community and had the chance to listen to some really inspiring presentations in the theatres.
I caught up with Michal Thomas whom I've known "virtually" online for sometime who is a serious 3D enthusiast and was good company across the morning. Michal blogs and has a presence on Facebook as "Iwatch3D" and has a website @ http://iwatch3d.com/
After an initial welcome message the day kicked off with a presentation from the  International 3D Society President Jim Chabin hosted by Jonathan Tustain from 3D Focus. This was an interesting session presenting stats on the current state of 3D. The discussion touched on one of the recurring topics that came out strongly across the day, that of stereographers perhaps having played too safe with the strength of 3D in the first few years of the 3D resurgence. As you would expect from both a 3D conference and the I3DS the message overall was that 3D is going strong for both film and TV with more professional level 3D productions underway than ever.
I then headed off to Theatre 3 for the "Shooting Better 3D"  panel with Chris Parks from Vision3, Steve Schklair from 3ality Technica & Melissa Byers from Vision3, hosted by Chris Parks. It was a packed session and re-iterated the "let's use stronger 3D" message, however as a no budget filmmaker it didn't really inspire me that any of this was achievable with the micro budgets I have available.
After a little wander around checking out the "Rig Zone" a selection of 3ality Technica rigs and the all in one Meduza camera I grabbed a spot of lunch with Ariela from Yabazam. Having recently written an article on 3D VOD it was certainly interesting to discuss 3D VOD with someone who's right at the heart of it and someone who shares a passion for sharing great stereo 3D content.
Following lunch I headed off to listen to David Conley who gave a great presentation on some of the vfx from "Life of Pi" then we headed over to Ang Lee who spoke on a video link from New York. Ang was truly inspiring, not only did he come across as a genuinely humble and intelligent man, he also exuded a positivity and enthusiasm for using 3D to enhance the cinematic experience. He echoed my belief that the director should be the stereographer in order to fully integrate 3D right into the heart of the story and to come up with ways in which the 3D can be used creatively. I believe anyone in the audience who had any scepticism would have immediately headed to a bookstore to grab a book on stereo 3D… and started their creative journey into the next dimension.
Although the event was on for a full two days I could only make day one and definitely felt Ang Lee made it for me – he revitalised my enthusiasm and I headed home fired up to get creating some Ang Lee worthy 3D!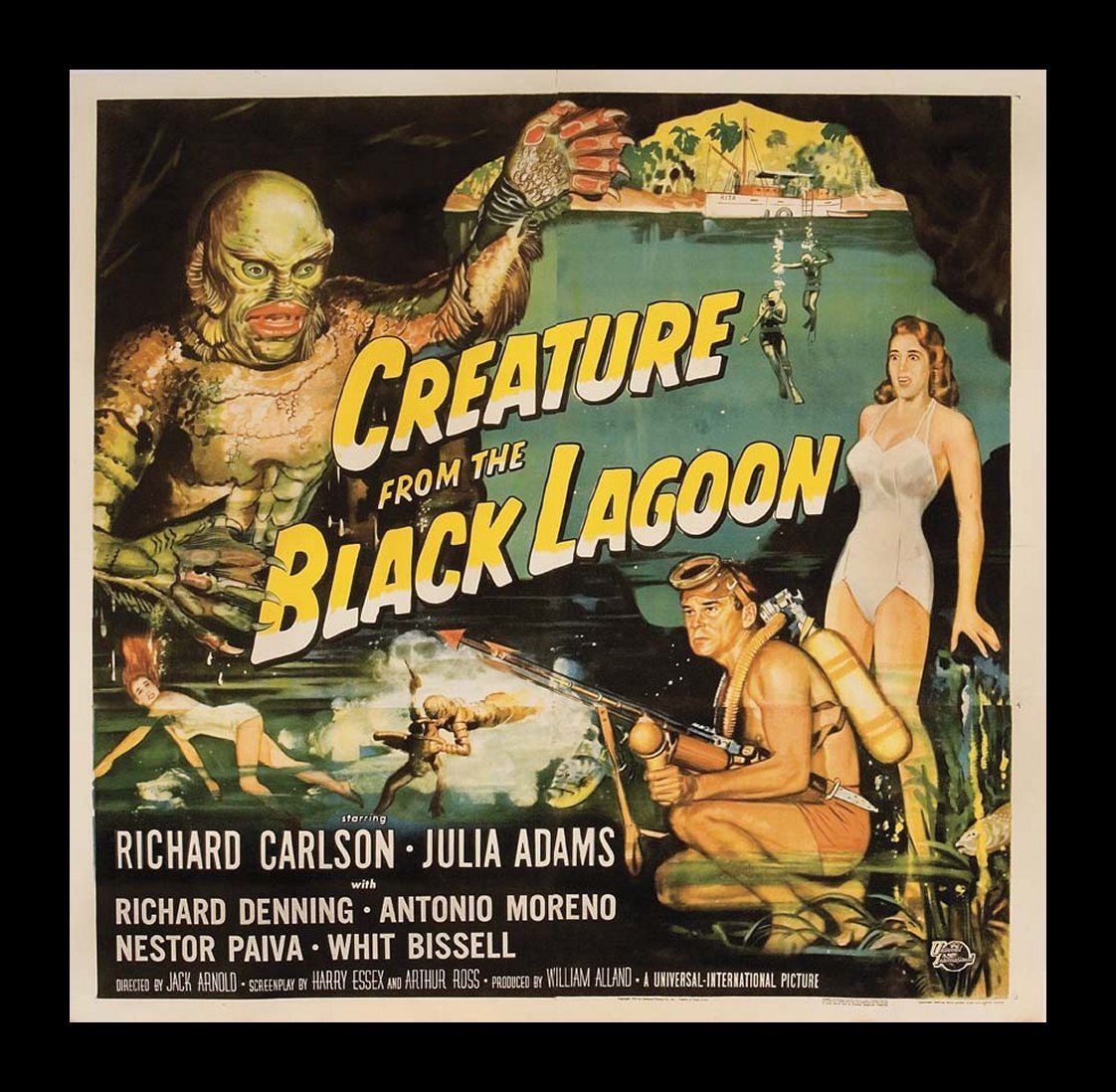 The Creature from the Black Lagoon, Kiss Me Kate, House Of Wax & of course Dial M for Murder are all rightly regarded as 3D classic from Hollywood's golden age of 3D. But was the 1950's really the golden age for 3D film? Considering the rudimentary technology for both capture and display; the relatively small number of films produced, and the lack of big name directors involved wasn't the 1950's an early experiment, an exciting one, but simply the precursor to where we are now: The Real Golden Age of 3D.
Creating 3D content in the 1950's was an expensive and often experimental undertaking, so the output was in general limited to studio level features and shorts with budgets sufficient to cover the stereoscopic production overheads. In reality the number of 3D features released in the 1950's "golden age" was only around 50 odd films

, with quite a number  of them on the lower end of the budget scale. Not to suggest there weren't some great and visually stunning pieces of cinema, however the over reliance on 3D as a gimmick to throw objects at a (un)suspecting audience quickly wore thin and only a small number of serious directors got involved in 3D projects.
State of the art capture and display technology has also attracted a considerable number of high profile film Director's. Led by James Cameron's driving energy, stereoscopic skills and his teams technological developments on Ghosts of the Abyss
and
Avatar
, Hollywood has been dragged kicking and screaming into the new age of 3D. And naturally many Directors when given the opportunity to create stunning new visions, with a whole new range of options and tools, are enthused and thrilled to jump in and get creative. Of course there are plenty who prefer the status quo, and that is their obviously choice to do so.
Advances in technology and increased computer processing power has been another key driver in the resurgence of stereoscopic 3D. Consumer level computers now have sufficient processing power to easily cope with the typical requirements of dual stream stereo video, or to easily render a secondary view from even rudimentary, even free, software.
Capturing or creating the stereoscopic film is of course only one half of the requirement… where can you view these masterpieces? Alongside the tech developments for generating the content the display opportunities have proliferated.
The biggest hurdle is often cited as the "fact" that consumers don't actually want 3D. Figures from cinema receipts dispute this with half the top ten grossing films in 2011
&
2012
being made in 3D. From personal experience, on my
YouTube Channel
, on occasions where I offer both a
3D
and
2D
version of a film the 3D version typically gets between 5 times and 45 times more views; the audience is actively selecting to watch my films as intended, in 3D.
So what is the state of the 3D nation?
The desperate attempt of the film studios to reap more cash from their product, whilst attempting to combat piracy has no doubt helped initiate the latest wave of stereo 3D, however the fact that 3D is not maintaining the momentum to deliver to the overambitious early indicators, not dissimilar to the naive dot com boom and bust philosophy, simply proves the initial beliefs were wrong, not that 3D is dead in the water.
Far from it.  With the improvements in technology for both creation and display of stereoscopic content, along with bigger budgets, high profile film makers, wider exhibition & distribution platforms we are in the biggest 3D wave yet – whether it maintains the same initial momentum is neither here not there, with the scale of this latest wave it seems highly unlikely this will simply end as previous attempts at bringing 3D to the mainstream have. This time it's for real; The Golden Age of 3D is with us.
Andrew Murchie is a Director at
Multiply
, a stereoscopic filmmaker and 3D enthusiast based in Edinburgh, UK. He blogs on Stereo 3D related topics on Enhanced-Dimensions.com and runs
The Stereoscopic 3D Channel on YouTube
.