Posts Tagged '2d to 3d conversion'
With final results from 2013 box office income demonstrating that 3D is an overwhelming force in cinema, should all aspiring filmmakers consider comprehension of stereoscopic 3D as a basic component of their required learning?
Since the virtual reboot of 3D cinema and related technology with "Avatar" in 2009, stereoscopic 3D film has grown from a small percentage of Hollywood's output to being ubiquitous for any tent pole attraction. The initial surge included a large number of shoddily converted, quick-buck grabbing films which threatened the resurgence in its infancy and although conversions still abound technology has advanced as have the skills and many are considerably better than the first generation attempts. One area of concern is that natively shot live 3D productions are still thin on the ground.
Of 2013's highest grossing  films in 3D, 8 were converted in post, 3 were animated in 3D and only 2 were live action natively shot in 3D. That's an uncomfortably low number considering that natively shot 3D does generally deliver better looking results. From these numbers we can extrapolate that 3D conversion, as part of the post production industry, offers definite growth opportunities if this years swing towards stereo 3D continues. Or alternatively is there an opportunity to support wider learning of shooting natively in 3D, so as to educate younger filmmakers in an appreciation of the benefits of well shot 3D, thus alleviating the requirement for quite as much post production conversion?
This has led me to another question in my home country: Why are there no opportunities nor training for Stereo 3D film in Scotland? One of the world's fastest growing entertainment technologies, in a field where a major complaint is that there is a shortage of good quality content – and in our whole country there is currently no training available, nor any opportunity to get involved with this technology.
The good news is that Enhanced Dimensions now has a plan to address the lack of 3D training in Scotland. Having had success last year with our very brief "Introduction to 3D" that we ran for a local film group we are now in the planning stage for a comprehensive 2 day course on 3D Filmmaking. The course will take attendees through the theory of stereoscopy and offer practical opportunities to be hands-on with 3D cameras from Sony (HXR-NX3D1) and Panasonic (AG-3DA1), plus experience using a fully operational 3D Film Factory beam splitter rig using Canon XF-105 Cameras. Finally the course will take users through the editing and post production process for 3D using Adobe Creative Suite.
The course is currently under development and we aim to run this in 2014, in Edinburgh. If you are interested in the course please email 3d@enhanced-dimensions.com and we'll be in touch when dates are confirmed
We've been doing some tidying up of the blog and have introduced a funky new Stereoscopic 3D Resources Section where you'll find a range of (hopefully) helpful links to 3D related items and information.
Currently we've included 3D Books, 3D Websites, 3D Software, 3D Film Festivals and our own Enhanced Dimensions 3D Tutorials. Also included is our small selection of reviews of 3D Blu rays.
We've also moved our Free 3D Downloads into the resources sections to keep it all neat and tidy!
Our resources section is far from comprehensive currently, so if you know of anything that we've missed please do let us know.
I'd like to extend a warm welcome to the readers of Digital Filmmaker Magazine, a cutting edge UK based publication that covers a wide range of topics focused on the burgeoning indie digital filmmaking scene.
I'm proud to share that this month's issue (Issue 6, August 2013) features an article on shooting in 3D on a budget which I wrote. It features a whole heap of behind the scenes pictures from our short film shoots, predominantly from "The Collection (3D)", and covers all the basics of shooting, editing and displaying in stereo 3D using a fixed IA camcorder.
If you've visited based on the magazine coverage welcome again and I hope you'll make full use of this sites resources. We've got tutorials on all things stereoscopic from editing 3D footage in Premiere, creating 3D motion graphics with After Effects through to converting 2D to 3D images with Photoshop and for the hardcore tutorials on converting 2D footage to stereoscopic 3D.
Beyond that we have a wide range of free 3D downloads available including 3D desktop designs, 3D Adobe After Effects Tools, 3D Videos for your 3D TV and loads, loads more.
I do hope you enjoyed the article and similarly enjoy the site.
Vive le 3D!
As part of our promotion for Crime Squad we've got what we believe is an amazing new offer for anyone who creates stereo 3D using After Effects. There's no horses heads involved but it's still surely an offer you can't refuse?
So what am I talking about? Okay here's what you get:
Full digital downloads of the series in 2D or 3D – VALUE: £10
Screen Candy 3D – VALUE: £13.50
RockCandy 3D Singlez 01 – Rock Crest 01 Pro VALUE: £10
RockCandy 3D Singlez 02 – Pink Strip Show Pro VALUE: £10
And don't forget as part of Screen Candy you get our Ed-3D Virtual Stereo Rig and our ED-3D Stereo Repair Kit
TOTAL VALUE £43.50 (Roughly $65)
COST TO YOU WITH THIS OFFER £15 (Roughly $22)
All this for a meagre £15 donation to Crime Squad 3D. So not only do you help get the series made but you walk off with a whole heap of extra goodies.
Let's get on with the show! Visit Crime Squad on Indiegogo now!
3DTV-CON comes to Scotland and the UK for the first time in 2013.
3DTV-CON aims to bring together researchers and developers from academia and industry with diverse experience and activity in distinct yet complementary areas to discuss the development of next generation 3D broadcast technologies, 3D imaging and measurement, and associated applications. Because of its location in Aberdeen, this is an ideal opportunity to widen the traditional remit of 3DTV-CON into 3D imaging, vision and measurement in the offshore energy community and to showcase the significant activity being undertaken in this sector.
Professionals working across the whole spectrum of 3D research and development from image capture, data compression, transmission, and display through to machine vision and industrial applications are cordially invited to participate at 3DTV-CON 2013. The conference will consist of plenary and invited talks and special and regular sessions on specific conference themes.
Call for Papers
Papers are welcome that cover one or more of the topics. Papers which fit the 3D theme but are not explicitly covered by these topics will also be considered.
Paper submission: Prospective authors are invited to submit original papers, two to four-pages long, in double-column format including authors' names, affiliations, and short abstract. Papers will be collected only by electronic submission through the conference site.
3D ENABLER CONCEPTS AND TECHNOLOGIES:
3D Capture and Processing: 3D audio-visual scene capture and reconstruction techniques for static and dynamic scenes. Synchronization and calibration of multiple cameras. Holographic camera techniques. Multi-view and multi-sensor imaging. 3D data processing.
3D Coding and Transmission: Systems, architectures and transmission for 3DTV. Audio coding for 3DTV. Multi-view video coding. 3D meshes and holograms. Error resilience and error concealment of 3D video and 3D geometry. Signal processing for diffraction and holographic 3DTV.
3D Visualization: Projection and display technology for 3D videos. Stereoscopic and auto-stereoscopic display techniques. Holographic display technology. Reduced parallax systems. Integral imaging techniques. Underlying optics and VLSI technology. 3D mesh, texture, point, and volume-based representation. Object-based representation and segmentation. 3D motion analysis and animation. Laser based displays, view synthesis & rendering.
3D Quality of Experience: Subjective quality evaluation. Objective quality metrics. Multimodal experience. Interaction with 3D content: consumer, social and gender issues.
3D Imaging and Machine Vision: Stereo vision, 3D triangulation and depth estimation. 3D measurements techniques. 3D tracking. 3D guidance for tele-operated and autonomous robots.
3D APPLICATIONS SOLUTIONS TO REAL-WORLD PROBLEMS:
Entertainment: 3D television, cinema, games and entertainment. Advanced 3D audio applications. 3D imaging in virtual heritage and virtual archaeology. Augmented reality and virtual environments: 3D maps. Mixing of virtual and real worlds. 3D CGI.
Collaboration & Development: Virtual studios. 3D teleimmersion and remote collaboration. Immersive video conferencing. Collaborative development of 3D CAD models. 3D content-based retrieval and recognition.
Medical: 3D for medical and biomedical imaging applications. 3D in Medical education.
Oil & Gas: 3D subsea/underwater imaging. 3D imaging of oil wells and reservoirs. 3D measurements. Pattern projection and scene representation.
Other 3D applications: Safety and security. 3D Watermarking.
PROGRAMME & SPEAKERS
The Three Dimensions of John Logie Baird
John Logie Baird is remembered as the inventor of television, but his work on colour and 3DTV is much less known. As are his significant contributions to other information sciences and their resulting technologies. Baird's futuristic work will be described with an added perspective never seen before. Despite ailing health and poverty, Baird did more to advance the early development of television than any other individual. He planted the seed, which has grown into the multinational, trillion dollar video and communications media industry. Baird is often dismissed as the person whose only claim to fame is that he invented a crude type of television that was quickly superseded, but this presentation will lay these criticisms to rest.
For over a quarter of a century Baird developed monochrome, colour and 3D television, and many of the techniques he pioneered may be found in modern-day systems. Details will be given showing the operation of these systems and how they have developed since Baird's untimely death at the age of 57 in 1946. Although the three 'dimensions' of Baird's will be shown as his developments on: monochrome TV (1), colour TV (2) and 3DTV (3), there is another and more exciting discovery to be revealed: A remarkable Baird invention hitherto virtually unknown. A concept much more advanced than stereoscopic television and a system still under research that may yet pave the way to a future commercial holographic television system.
A high quality real 3D display based on light field regeneration
Professor Xu Liu, Zhiejiang University
One of the goals of 3DTV is to produce a "real" 3D display whereby every viewer will see an exact representation of the original scene from a wide range of viewing angles, and which is optically indistinguishable from the original. There are several possible techniques which can be used to represent a full 3D image in space, for example, holography, integral display, or light field regeneration. Light field regeneration offers us a new way to design and construct a real 3D display which is more efficient in terms of 3D display data generation compared with others; and offers the possibility of displaying a floating 3D scene in air, which is viewable over a 360° angle for many observers without any glasses and with correct occlusion. In this talk, the principles of light field regeneration will be reviewed and compared with traditional holographic displays. A prototype display has been achieved and a real 3D color animation image will be presented.
For more info visit the 3DTV-Con Website.
(and if I were an academic instead of a filmmaker I'd be there for sure!)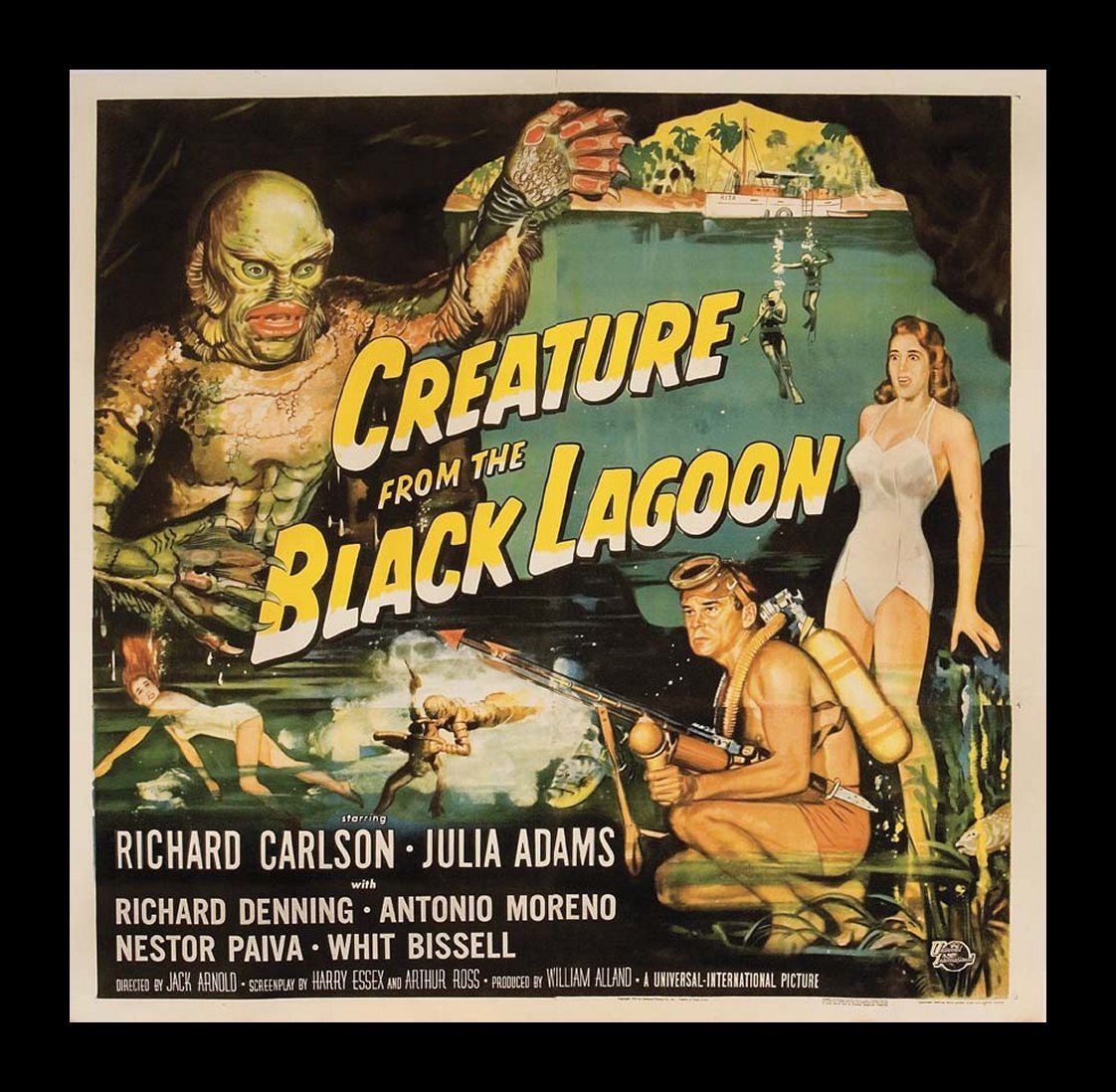 The Creature from the Black Lagoon, Kiss Me Kate, House Of Wax & of course Dial M for Murder are all rightly regarded as 3D classic from Hollywood's golden age of 3D. But was the 1950's really the golden age for 3D film? Considering the rudimentary technology for both capture and display; the relatively small number of films produced, and the lack of big name directors involved wasn't the 1950's an early experiment, an exciting one, but simply the precursor to where we are now: The Real Golden Age of 3D.
Creating 3D content in the 1950's was an expensive and often experimental undertaking, so the output was in general limited to studio level features and shorts with budgets sufficient to cover the stereoscopic production overheads. In reality the number of 3D features released in the 1950's "golden age" was only around 50 odd films

, with quite a number  of them on the lower end of the budget scale. Not to suggest there weren't some great and visually stunning pieces of cinema, however the over reliance on 3D as a gimmick to throw objects at a (un)suspecting audience quickly wore thin and only a small number of serious directors got involved in 3D projects.
State of the art capture and display technology has also attracted a considerable number of high profile film Director's. Led by James Cameron's driving energy, stereoscopic skills and his teams technological developments on Ghosts of the Abyss
and
Avatar
, Hollywood has been dragged kicking and screaming into the new age of 3D. And naturally many Directors when given the opportunity to create stunning new visions, with a whole new range of options and tools, are enthused and thrilled to jump in and get creative. Of course there are plenty who prefer the status quo, and that is their obviously choice to do so.
Advances in technology and increased computer processing power has been another key driver in the resurgence of stereoscopic 3D. Consumer level computers now have sufficient processing power to easily cope with the typical requirements of dual stream stereo video, or to easily render a secondary view from even rudimentary, even free, software.
Capturing or creating the stereoscopic film is of course only one half of the requirement… where can you view these masterpieces? Alongside the tech developments for generating the content the display opportunities have proliferated.
The biggest hurdle is often cited as the "fact" that consumers don't actually want 3D. Figures from cinema receipts dispute this with half the top ten grossing films in 2011
&
2012
being made in 3D. From personal experience, on my
YouTube Channel
, on occasions where I offer both a
3D
and
2D
version of a film the 3D version typically gets between 5 times and 45 times more views; the audience is actively selecting to watch my films as intended, in 3D.
So what is the state of the 3D nation?
The desperate attempt of the film studios to reap more cash from their product, whilst attempting to combat piracy has no doubt helped initiate the latest wave of stereo 3D, however the fact that 3D is not maintaining the momentum to deliver to the overambitious early indicators, not dissimilar to the naive dot com boom and bust philosophy, simply proves the initial beliefs were wrong, not that 3D is dead in the water.
Far from it.  With the improvements in technology for both creation and display of stereoscopic content, along with bigger budgets, high profile film makers, wider exhibition & distribution platforms we are in the biggest 3D wave yet – whether it maintains the same initial momentum is neither here not there, with the scale of this latest wave it seems highly unlikely this will simply end as previous attempts at bringing 3D to the mainstream have. This time it's for real; The Golden Age of 3D is with us.
Andrew Murchie is a Director at
Multiply
, a stereoscopic filmmaker and 3D enthusiast based in Edinburgh, UK. He blogs on Stereo 3D related topics on Enhanced-Dimensions.com and runs
The Stereoscopic 3D Channel on YouTube
.